Real estate is seasonal.
This statement is very bland. Four words that tell a story of an economic market with great accuracy. Now, let us make these words sparkle and glitter with some graphs and numbers: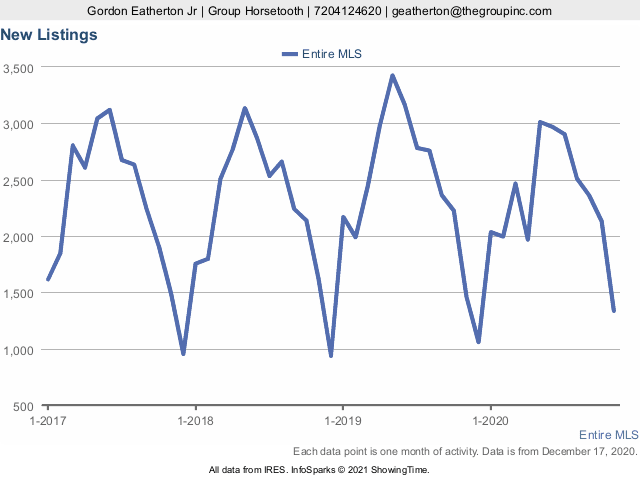 The last three years, looking like the Rocky Mountains that stretch the front range. The lowest point of the valley is December with a rise to the peak in May. The average number of new listings drops to an average of 982 homes, while the average number of new listings is 3,227. These numbers are for the entire MLS (IRES).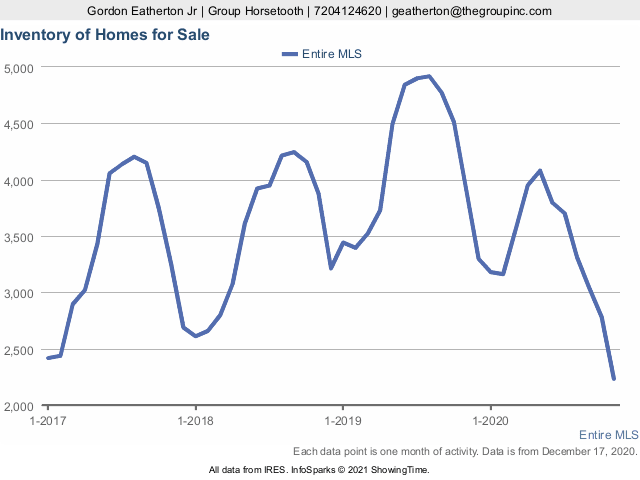 This graph shows us the inventory of homes for sale over the last three years, it has a familiar "normal" curve, low in winter and high in summer. I would like to highlight the large drop of the graph toward the right-hand side, this datapoint represents the inventory of homes as of November 2020, which is 2,233 homes. This is a decrease of 43% from 2019. It took a second for this statistic to sink in.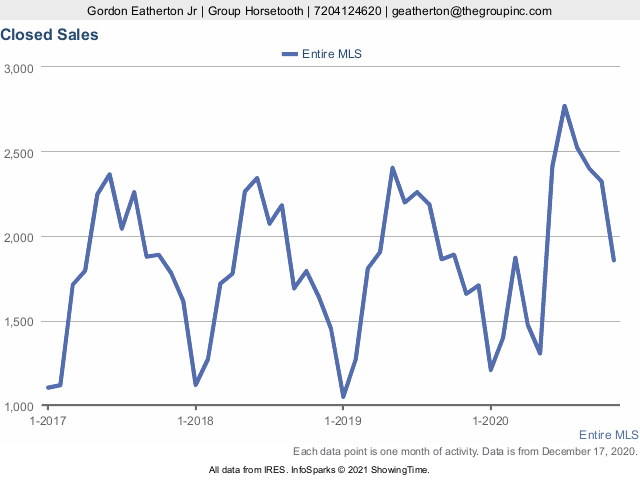 With the knowledge we now possess about supply, it is time to look at this blue line, looks a bit higher than Novembers previous. 1,856 homes sold in November 2020 which is a 12% increase from 2019. The peak of closed sales, 2,770, happened in July 2020 which is roughly 15% above the peak in 2019. Continuing this illustration of where we stand in the real estate market, under contract homes are also up 4.7% over 2019.
The seasonal shift is real, the dip has been exacerbated by virus, leaving a real estate market parched of what is needed most, supply. Buyers are still at large, lurking in your hedges with their thumb on the call button, their favorite real estate professional waiting in the wings contract ready! 2021 looks to keep pace and possibly outpace an outstanding year for real estate.